Play.Talk.Sing.Move.
At Learn With Less® Classes
The Authentic Nest is proud to facilitate Learn With Less® family enrichment groups during which caregivers have a unique opportunity to observe their child's play in a thoughtfully prepared environment. Our play-based groups use play, talk, sing, and move as the framework to support all areas of your child's development. These weekly classes are a safe, warm, and inclusive space for caregivers to share their struggles and celebrate their successes. You can put your mind to rest knowing all enrichment groups are led by a licensed parent educator with a professional background in early child development. Does this sound interesting? Let The Authentic Nest support you on your unique parenting journey with a weekly opportunity to learn, connect, engage, observe, and socialize. Contact us today!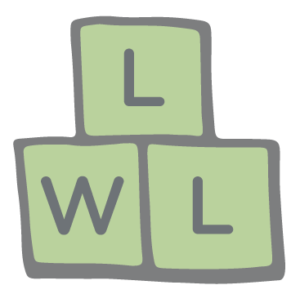 LWL® stands for Learn With Less®. The curriculum for LWL® Caregiver & Child Classes was developed by LWL® founder, Ayelet Marinovich, M.A., CCC-SLP. These classes are straightforward, practical, and most importantly, welcoming. During each session, we provide opportunities for you to try new strategies, and to observe and play with your baby.

Learn With Less® classes at The Authentic Nest are for infants, toddlers, and the grownups who love them. This means that they are appropriate for infants and toddlers of all developmental levels. Whether your child is developing along a typical trajectory or whether you have concerns about your baby's development, you are welcome to attend.

What Will We Do During Class?
LWL® Child and Caregiver Classes are such a gift to the entire family. In these unique classes the child enjoys the freedom to explore everyday materials in a play space specifically designed for them. In this fun and relaxed environment, we will address the four major areas of Infant & Toddler Development: Cognition, Communication, Motor/Sensory, and Social/Emotional by way of the LWL® four pillar framework: Play. Talk. Sing. Move.

As someone new to the journey of respectful parenting, Rachel's approach and mentorship have been invaluable to me and my family. She can listen to my fears and worries and then gently remind me what is actually in my control, and what my children are likely looking for. Alongside that knowledge, she regularly reminds me to engage in the process as a full human–my needs and comfort also matter in the way I guide and partner with my children. She is a cheerleader for parents and children alike, and her intuitive capacities are incredible. Please sign up for her classes! You won't regret it. I'm not exaggerating when I say it will change your life. – Bethany
I met Rachel when my daughter was 1 and she introduced me to RIE and respectful parenting. Needless to say, she changed our parenting trajectory in the best way. She always has the best advice when I need it, and the knowledge to support in the gentlest of ways. – Nicci
Rachel was my go-to for advice on young children long before I had one of my own. Rachel has studied and engaged in learning opportunities for many many years in an effort to understand children and their needs from infancy through early childhood. She's respectful as a consultant to adults and she is most importantly respectful of the child. I refer to things she's taught me over the years on a regular basis. I highly recommend any opportunity to spend time with Rachel to grow as a parent, guardian, or friend of young children. You will walk away with an enhanced perspective. – Beth
Rachel and I have attended several RIE and Montessori trainings together. I am always astounded by her insightfulness when observing infants and toddlers and working with their parents. She is caring, supportive, and non-judgmental as she guides parents through the most formative years in their child's development. Rachel is a naturally compassionate, empathetic, and authentic person. These qualities make her the perfect partner on your parenting journey. – Jessica
Rachel is both a gifted teacher and caregiver. I took her classes when my son was a newborn and was graciously met with not just a set of parenting tools but a way to communicate and care for my child that has lasted into his elementary school years. Rachel has a wealth of knowledge in the realms of infant and toddler development and her help gave me confidence during a stage of parenting that I thought I would be a natural and in fact I struggled with. Her classes are both a gift to your child and to yourself. -Liz
My favorite thing about the time my family has spent working with Rachel is the way she took time to learn about my children and to see them for who they are. It is clear that she is passionate about supporting children in their individual needs as they grow and develop! I'm thankful for the way she genuinely cares for my children and for the way she is able to communicate her knowledge of child development with families in a supportive and judgement free way. – Lindsay